The Clarinda Fire Department was established in 1875 to provide fire protection for Clarinda.
Prior to 1917 the fire department used horse drawn fire engines, but in 1919 the department began using its first motorized fire truck. In 1973 the role of the Clarinda Fire Department was expanded to include rural fire protection as Nodaway and Harlan townships formed a Rural Fire Board.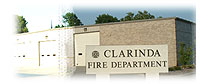 Today, the Rural Fire Association includes
Nodaway,
Harlan, Nebraska,
Douglas, and East River townships.
For many years the Clarinda Fire Station was located south of the current Clarinda City Hall on South 15th Street, but in 1999 a new fire station was constructed on East Washington Street. Currently, the Clarinda Volunteer Fire Department consists of 25 members and responds to approximately 160 calls per year.